FILTER HOUSINGS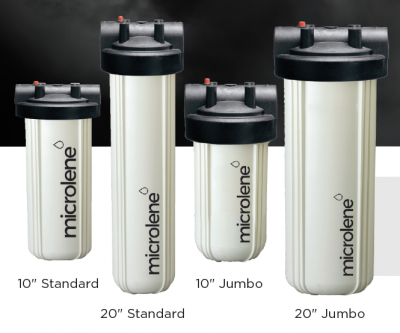 FILTER HOUSING

Material of construction is reinforced polypropylene
for durability.
Standard housings use cartridges of 63.5mm od (2.5") or 68.5 od (2.75").
Jumbo housings take cartridges of 114mm od (4.5")
All housings come with mounting brackets and mounting hardware. All models have pressure relief valves (except W10). Jumbo housings are supplied with housing spanners.

Recommended operating limits:
10 inch housings – 125psi/850kPa at up to 50oC.
20 inch housings – 90psi/620kPa at up to 50oC.

As a guide, we identify the flow rate of all of our cartridges and the housing size required to suit the cartridge filter. Davey's filter housings are constructed from reinforced polypropylene for durability, are supplied with mounting brackets and hardware for easy installation and pressure relief valves on most models.
Related Products
Back...