Knive Victrinox Boning Swibo Curve 16cm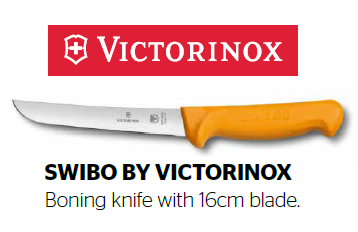 Victorinox
The Essential Tool for Generations
132 years experience

16cm boning knife by Victorinox
Great buying

Whether for chefs or butchers: the knife is the most important tool of the trade in both professions. Victorinox professional knives stand out thanks to their high-quality, durable materials and ergonomic design as well as being carefully developed for their intended purpose. Thanks to the broad product range, every professional will find the right knife for his or her specific requirements. The right blade hardness and the laser-tested cutting angle guarantee high edge retention.

A pioneer and icon in professional knives, Swibo is the knife of choice for professional butchers featuring the distinctive bright yellow handles.

- Ergonomic concept
- Maximum safety
- Totally hygienic
- Ultimate performance
- Superior quality
- Full warranty

SWIBO knife handles are made of genuine Grilon (Swiss Nylon Quality). Consequently they are unbreakable, heatproof to 150 degrees Celsius, and do not absorb any grease or dirt. They are ageless and hygienic. They are safe because of their security yellow colour with their hand-adapted shape with safety guards and non-slip surface, even when wet.
Related Products
Back...